So you're shopping for a picture frame – What makes a person choose to custom frame rather than buy a pre-made? One of the many reasons is glass. Did you know that there are several types of glazing (aka "glass") available for picture frames? Glazing is often overlooked, and yet is a crucial part of your frame. 
The Invisible Enemy…
Ever see a photo turn yellow as it gets older? Photos turn yellow and/or fade because they did not have protection from humidity, heat, dust – and most importantly  artificial and UV light. The right glazing will act as a preservation barrier; protecting your pieces from these elements.
What Causes Fading
Why do we call it glazing?
Glazing refers to a coating that is manufactured onto picture frame glass or acrylic (Plexiglass). This coating offers varying degrees of protection depends on the type of glazing. The most commonly used glazing is regular picture glass – This is what you'll find in a standard pre-made frame. But there's also anti-reflective, acrylic (Plexiglass), and a range of conservation or museum-quality choices.

So, how do you decide what to choose?
The type of glazing you select will depend on your style, budget, what you are framing, and where the piece will hang. If the item you are having framed has either financial or sentimental value, we recommend considering a high preservation option.
At Heritage Art Galleries & Framing, we work with a wide range of glazing for all types of projects: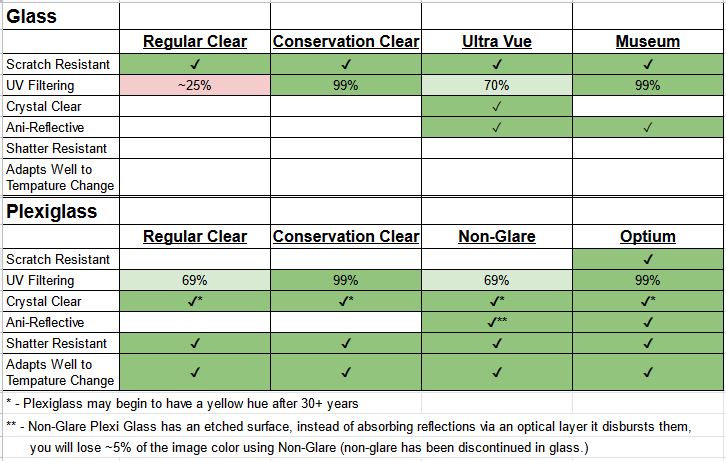 From charcoal artworks to vintage posters, the framers at Heritage Art Galleries have the expertise to help guide you to the ideal glazing for your piece. You can have peace of mind knowing your art will stand the test of time!