We all have that one person in our lives who is impossible to shop for. Custom frames offer a gift for anyone on your list that has it all. They are ideal for Christmas, birthdays, Valentine's Day, Mother's Day, Father's Day, anniversaries, and any other special occasion that requires a thoughtful and unique gift. Keep reading as we share some of our top gift ideas using custom frames, all of which will delight anyone on your gift list.
Frame Grandma's Recipe and Spoon
Or the key to grandma's house, grandpa's military metals, and more!
All of us have grown up with a favorite recipe, object, or memento that's been passed down through your family. You'll practically be able to taste abuela's sauce again when you see her recipe and spoon framed on your kitchen wall. This would be the perfect Mother's Day or birthday gift and you'll preserve these memories for years to come.
Frame a Ticket from Your First Date
Concert tickets, baseball game tickets, or even the record of the song that played that night
For a special surprise for your partner on your wedding day or anniversary, frame a concert ticket or any souvenir from your first date. This will take you both back in time to when you first met and is a thoughtful and unique gift to celebrate your love for one another.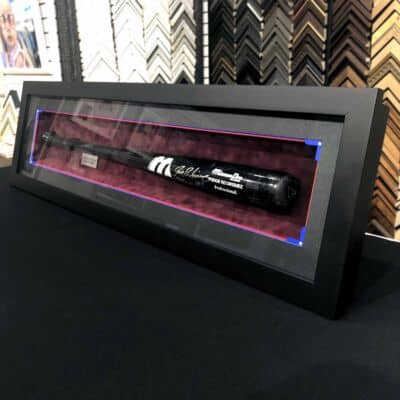 Frame a Jersey
The perfect gift for anyone nostalgic for that winning game
A custom frame of your favorite team's autographed jersey will help to keep this item in top shape for years to come. You might also have a jersey that you wore to that winning game – whether you were on the field or in the stands. By framing it, you're preserving it, so you'll remember this day many years after it has passed.
Frame a Baseball Bat
Golf flag, soccer cleats, baseball glove, or basketball
A truly one-of-a-kind gift is a framed baseball bat. Kids and teens will love putting this in their bedroom, especially if they are huge sports fans. You could also take this idea and adapt it to any sport item, keeping the memories of your first game or a milestone in your sporting career alive.
Frame a Wedding Invitation
Or celebratory bottle, wedding bouquet… even the wedding dress!
Recently married couples are looking to do all they can to keep this special day alive long after it's done. For your first wedding anniversary, consider a custom frame with your wedding invitation, which you'll enjoy displaying anywhere in your home.
Frame Drumsticks
Microphone, Guitars, and more!
It's not just about keeping those beat-makers safe and sound; it's about turning them into a symphony of memories. Imagine those well-used sticks, battle-worn from countless epic drum solos, now encased in a frame. It's the perfect harmony of style and sentiment, making it the ultimate gift for any music lover.
Frame Original Art
No home is complete without a beautiful piece of artwork that's tailored to your unique tastes. By framing original art, you can brighten up your office or living room.

Frame Kid's Art
Our kids grow up so fast, which is why you want to do anything you can to remember their early years. For Mother's Day or Father's Day, consider framing a piece of your child's art for your partner. Or add to your littles' confidence by framing their art for their room.
Frame Diplomas
We all work so hard to achieve various milestones in our lives, and graduating is something that you'll remember always. Framing your diploma will remind you of your hard work and keep you inspired to achieve anything in your life.
Frame Textiles
As textiles start to get worn out over time, framing them can keep the memories alive long after an item can be worn or used. Our custom frames can hold a variety of textiles, helping to keep them in top condition.
Frame Photos
For a simple but effective gift for any occasion, print & frame a special photo of you and your loved ones. Grandparents, aunts, and uncles love receiving photos of their loved ones, and you'll put a smile on their face every time they see your gift.
Frame Your Family History
If you are passionate about researching your family history, you'll want to make sure your hard work doesn't go to waste. Framing your family history will offer an interesting addition to any room in your home, and will be a topic of conversation for any guests you invite over in the future.
Frame a License Plate
Your first car is something that you'll remember forever, and we highly recommend framing a license plate to keep this memory alive. This would look great in any home office or a teenager's bedroom, and you could even start a collection of these when you replace your vehicle in the future.
Custom Frame Gifts In South Florida
We are a family-owned South Florida business, and are passionate about helping you to find the perfect gift for your loved ones this year. Heritage Art galleries & Framing offers thoughtful and unique gifts for any occasion with services including fine art and photo restoration, photo and art printing, commercial art consultation, and custom framing. We'll help to design your frame to match the gift receiver's personal taste, style, and home decor. Everything we offer is custom made, so we'll work with you to create the perfect frame for that person who is impossible to shop for. Get in touch with our team today for more information about our range of products. Book an appointment or reach us at 954-739-8975.